J'adore shopping in Paris.  The selections can make one drool and the salespeople make you feel so feminine and sexy with their suggestions, "Oh, this would look great on you, but this over here … très chic, irresistible!" My usual response? "I'll take two!" But the hustle-bustle of shopping Paris in January once the SOLDES sign hits windows (SALE) can be too much for even a diehard shopaholic like me.  So, with the perfect skinny black jeans, yummy cashmere sweater and chic scarf in tow I decided to blow off the crowded Boulevard Saint-Germaine and hop on the TGV for an alternative shopping experience an hour and 30 minutes away in the charming city of Dijon, the capital of Burgundy.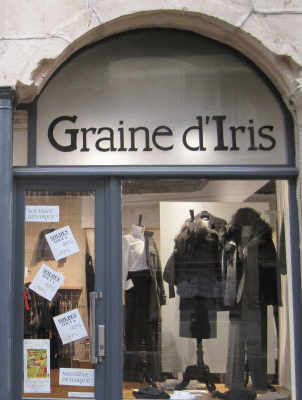 Dijon offers world class shopping in a beautiful setting. Most stores are situated on pedestrian-only streets in centuries old buildings with ancient facades lit by antique gas lanterns. The generous sidewalks allow shoppers to enjoy a leisurely stroll along row upon row of specialty stores. Dijon fashion has everything from shoes and accessories to coats and formal wear, with the added bonus that when you're tired of scoring the cutest things, you can settle in at a cozy table in the back of the local wine bar and sip seriously stupendous local vintages.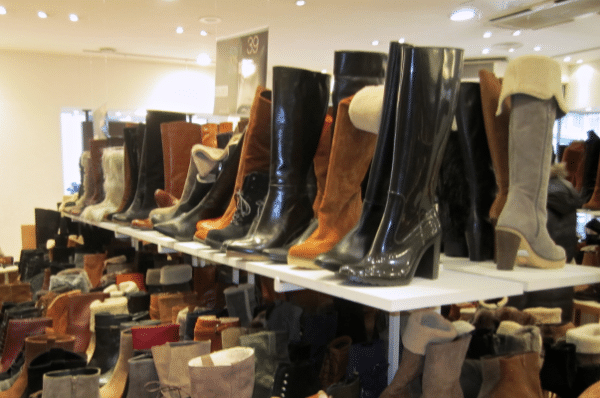 Important French luxury brands like Chanel, Yves Saint Laurent and Givenchy are present along with other important European designers like Emilio Pucci, Stella McCartney and Balenciaga at the mini department store Mylsand (38 rue des Forges).
There are loads of exquisite specialty stores for shoes and bags but one of the most widely recognized and seriously fabulous chain stores for shoes in Europe is Minelli (2 Rue Bossuet). Their sales are exceptional and they have one of the largest selections of boots in town. Foul'Art (17 Rue des Forges) specializes in leather handbags of all shapes and sizes at reasonable prices.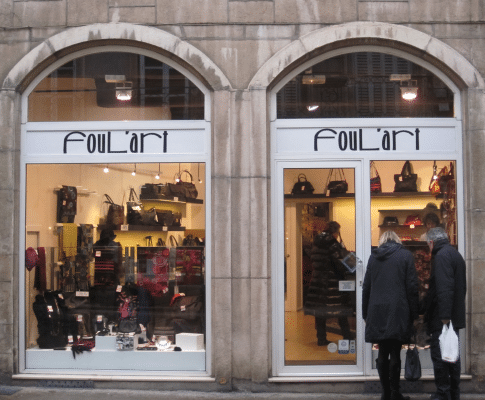 For work or play clothes you can find most of the same major brands in Dijon as in Paris. I recommend checking out Sandro (60 Rue des Forges) and Graine d'Iris (21 Rue des Forges) for chic suits and special occasion outfits. Both carry outstanding outerwear.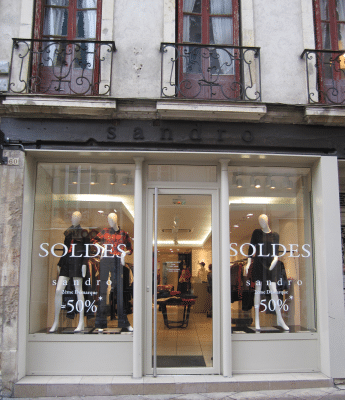 My favorite spots for casual separates and accessories are Caroll (41, Rue de la Liberté), Sud Express (53 Rue du Bourg), Le Petit Baigneur (52 Rue du Bourg), Mango (85-87, Rue de la Liberté) and Gerard Darel (11 Rue Morand). For edgier, trendy looks try Babylone Bazaar (23 rue des Forges), and Donna Piazza (5 Place Notre Dame).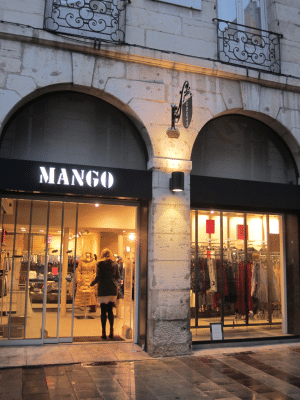 I would be remiss of course if I forgot to mention that Dijon is most famous for mustard and the house of Antoine Maille (32 rue de la Liberté) has been making the finest mustards since 1747. You can purchase exotic flavored ones in petit glass jars to take home for as little as five Euros or splurge on gorgeous keepsake Henriot Quimper faience bowls and jars ranging from 20 to a 100 Euros. They also have a few antique pots for sale that will set you back some big bucks. It's an amazing store that's so worth a visit, even if you're not a mustard lover.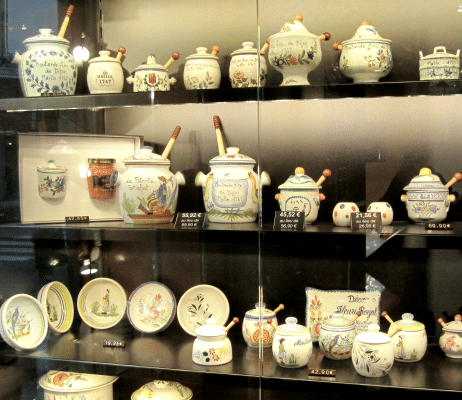 I spent a half-day in Dijon shopping and could easily have devoted an entire day to it there but alas, the famous Burgundy vineyards beckoned. When in France …
À bientôt!