NO TWO ITALIAN CITIES ARE ALIKE.  Each region has their own distinct customs, cuisine, history and architecture. To experience the best in each village, native knowledge is key.
Authentic cuisine, hidden treasures and local legends were on my wish list when I was invited to travel and tour Rome and Umbria with the head of Pranzo Tours, Tony DeFilippis.
Tony is an expert on finding the best local restaurants, accommodations and off-the-beaten-track sights in Italy. Pranzo Tours prides themselves on high quality, custom, luxury experiences and Tony lived up to its reputation. The first challenge for Tony was to take me unpretentious, non-tourist Italian restaurants in Rome. His three choices were excellent and
unique. Dillà, Porto Fluviale and Antica Enoteca. Dillà (via mario de' fiori 41, Rome) is off the beaten path, but close to the Spanish Steps. Some outdoor seating is available, but the ambiance inside is much more charming. What I remember
most, besides the great traditional flavors of the food was a very friendly wait staff.
Porto Fluviale (Via del Porto Fluviale, 22) is a hip spot for nightlife set in a cleverly decorated warehouse turned restaurant that offers regional Italian cuisine represented in five themed areas– trattoria, pizzeria, bar, lounge and their street food kitchen. Parking is almost non-existent so take a taxi. The servers will order you a cab for the ride home and will give you a ticket which shows you how long until your ride arrives – oh so convenient!
Antica Enoteca (via della Croce, 76/b) is a wine bar and restaurant that has been around since the mid 1800's. Old marble wine vats add to the appeal, but it is the killer pasta that won my heart. I had the best gnocchi pomodoro with basil in my life!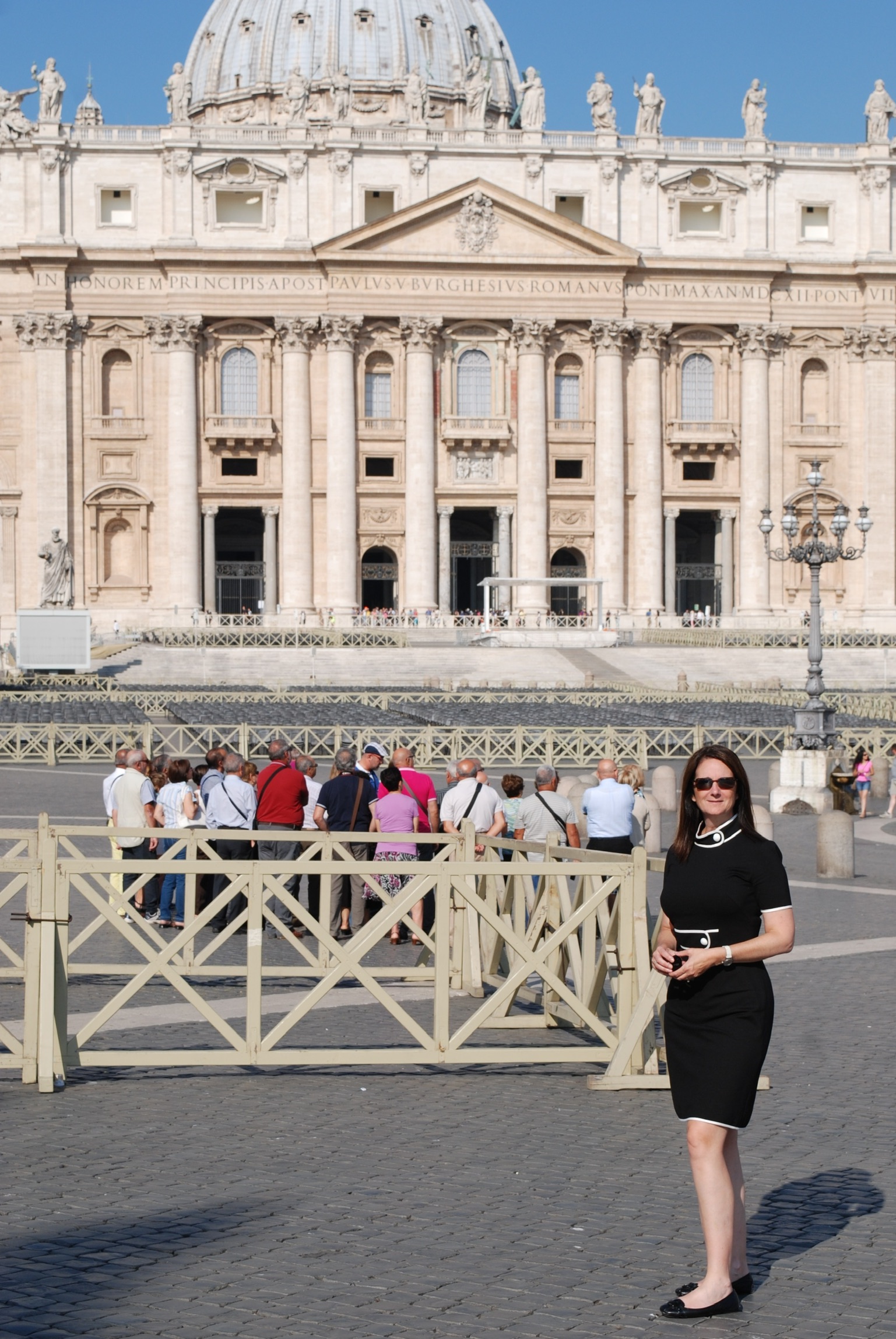 THE VATICAN I wasn't sure how we were going to get into the Vatican and Sistine Chapel without serious lines, but Tony made sure that he had secured tickets for an early morning entrance. We were whisked past the enormous lines and went
straight into the Vatican museum to begin our self-guided tour.  Although I could have spent days exploring, I was on a quest to see the essentials. Knowing my Catholic roots were important, Tony kept me at an aggressive pace through the hallways that allowed me more time to spend on the chief mission: spend time in prayer while soaking in the wonder and awe of the magnificent Sistine Chapel and immaculate (pun intended) Vatican grounds.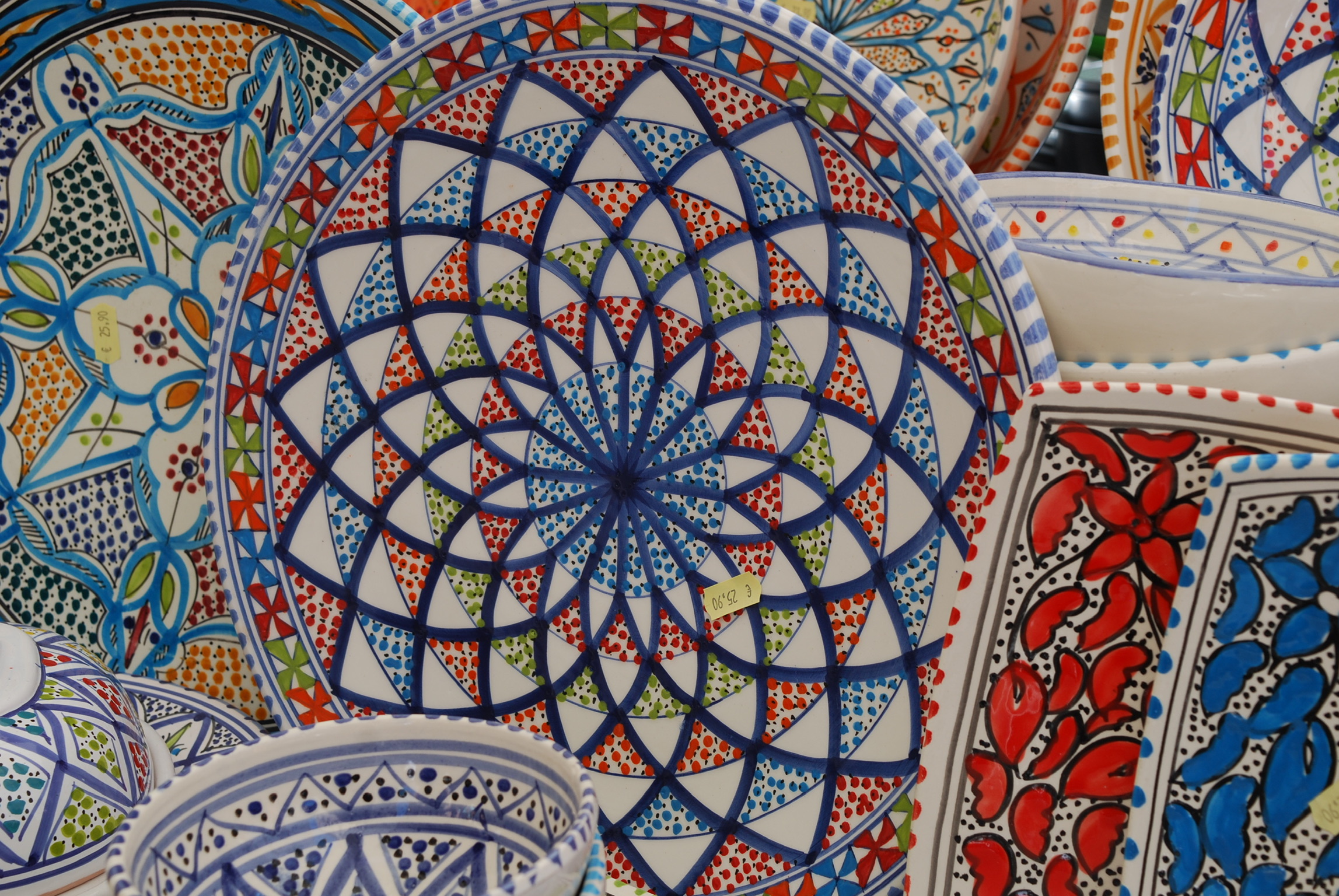 What would a trip to Rome be without hunting down some genuine Italian leather goods, specialty foods and local pottery? Tony carved out some time for us to peruse the local markets, high-end shops and everything in between. Favorites included: the Campo de Fiori market for spices, hats and pottery, the shop Pelletteria Rome for leather hand bags,
specialty food at Ruggeri market, and hot roasted chestnuts at the Piazza di Spagna. Fully stuffed with great food and suffering from tired feet after pounding the centuries old cobblestones of Rome in the wrong shoes, it was time to head for
the countryside. A private driver picked us up for the drive to Montefalco in the heart of Umbria.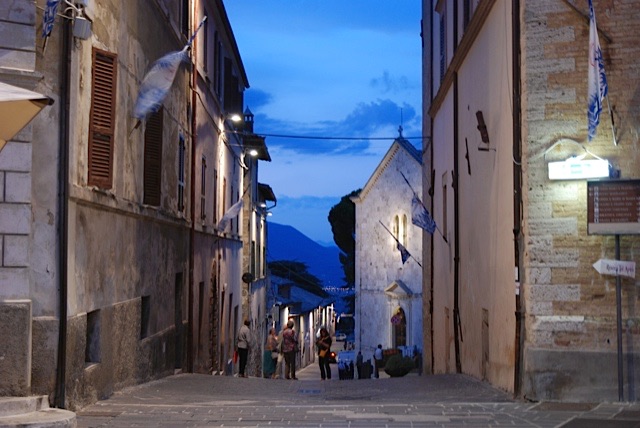 MONTEFALCO I must admit I slept for at least half of the drive to San Luca in Montefalco but was thankful to wake up just in time to take in the rolling hills and bright skies of the villages in the Umbria region. Deep in the heart of the countryside
lies the four-star hotel Villa Zuccari, our base for exploring the area for a few days. I loved the historic charm of the 16th century building, which felt more like a country house than a hotel. The spectacular grounds were an array of centuries-old trees flanked  by unusual and flowering plants. The pool area was beautiful with the rose archways mimicking the
facade of the hotel. The owner's wife makes all the morning breads and cakes, which accompanied a wonderful spread of meats, cheeses and fruits. What a warm and welcoming way to start my days. The inaugural dinner in Montefalco was at the
top of the hill adjacent to the village town offices. Drivers can only take you so far and then you can leisurely stroll up the rest of the way. We happen to be making the trek near dusk and the hues of blues from the nearby mountains gave the village an unforgetable glow.
L'Alchimista (piazza del Comune 14, 06036 Montefalco ) is a restaurant, wine shop and a specialty food store. We dined al fresco at a café table on the town square as we watched children playing soccer nearby. It was as pleasant a dining
experience as one could imagine. Simply delicious, a medium rare beef tenderloin and a bottle of red 2007 Collepiano
with a fantastic ambiance were the ingredients for a memorable meal.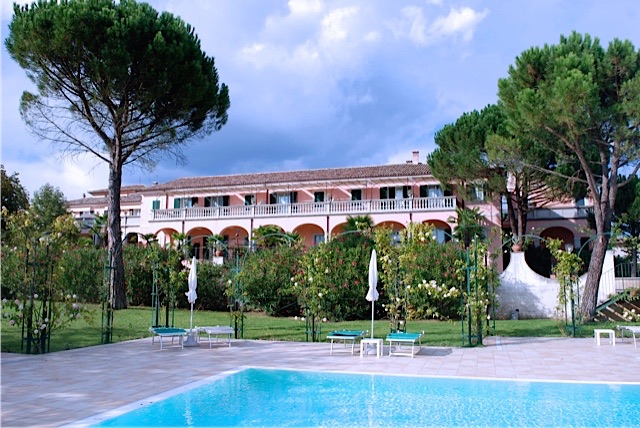 SPOLETO What could be better than having local expert and historian, Catia Melani, show us the highlights of Umbria
focusing on food, wine and scenery? The first stop was Spoleto, where we spent a brilliant bright day wandering up and down the narrow passages of the village and dodging the sun by shopping and eating in enchanting restaurants. Our driver, Maurizio,
G U I D E B O O K S C A N O N LY G E T YO U S O FA R I N T H E L A N D O F C H I A N T I A N D POMODORO
N AT I V E  K N O W L E D G E I S THE KEY
dropped us at Ponte Sanguinario, where we crossed onto Ponte delle Torri, a walking bridge that offered a most beautiful view of the city.
The Cathedral of Saint Mary of the Assumption (Cathedral of Santa Maria dell'Assunta), an impressive example of Romanesque architecture, has a golden mosaic from 1207 incorporated into the facade. One highlight inside is the gorgeous ceiling above the main altar that depicts the Assumption of Mary and another is a framed original penned letter by Saint Francis.
The 2nd-century Roman theater in Spoleto is an ancient historical site that has been relatively well preserved. The amphitheater still has some of the original stonework next to the renovated area that provides comfortable seating for today's audiences.
The region is known for its artisanal pottery. I found a sweet collection of ceramics at Ceramiche Umbre Artigianato (via Fontesecca, 21 Spoleto) where the artist was in residence. She makes one-of-kind serving pieces and designs unique patterns. I adored the Christmas ornaments hanging in the window and regret not purchasing one. Textiles also play a role in the local economy where expensive, but seriously soft and cozy cashmere scarves are made nearby.
Spoleto residents have a sense of humor, one of which owns a legendary wine bar called Osteria del Matto, which means 'The Crazy Bar'. The words underneath the sign say, "Entry only if you are going to drink wine." I wish we had time to investigate that further. Lunch was at Il Tempio del Gusto or The Temple of Flavor (Via Arco di Druso 11 Spoleto), named so because it was built on top of a temple. Outstanding plates were served in this tiny powerhouse bistro where chef Eros Patrizi creates beautiful and delicious dishes of distinction. There are only a handful of tables and I am so glad to have had the chance to dine on some of Italy's finest cuisine and meet Chef Patrizi personally.
Spello There was no time to dally because next on the agenda was to visit a small family-run olive oil production house in the village of Spello. It was the beginning of September, just a couple of weeks shy of the olives hitting their fully ripened stage. The foothills of Spello looked like a painting – trees below loaded with fat and juicy green olives against the subtle pink facades of centuries-old buildings above.
In the valley below I had the chance to meet the next generation of olive producers for Antico Frantoio Carletti (via Camesena, 1, 06042 Campello sul Clitunno). Definitely off the beaten path, I never would have found this place on my own and the dogs in the pen out front would have scared me half to death, but Catia assured me that it was well worth the visit.
Inside we stepped back in time where owner, Settimio Carletti was toasting fresh bread to a perfect golden crisp over an open flame in anticipation of our arrival. We dipped the warm bread into the olive oils sampling their different vintages while Settimio explained their traditional methods of production. The same olive pickers, who know every tree and branch in the vineyards, come back year after year to delicately harvest the olives, which helps to insure the quality of their olive oils.
Satiated with olive oil, it was onwards to wine tasting at Caprai Vineyards in Montefalco where they were beginning to harvest the white grapes. We watched as workers hand sorted and chilled the grapes prior to being placed in storage vats.
Our tour guide and sommelier guided us into a new, ultra sophisticated contemporary wine room where
we were each poured three wines. A 2013 Montefalco Bianco, a white 2013 Grecante Grechetto and a red Montefalco Riserva 2008, the later definitely my favorite with its dry and fruity flavor.
After a day of eating and drinking, I was losing steam. One of the great things about taking a customized tour with Tony is that you can deviate from the schedule, adding or cutting things out. He was happy to cancel our dinner plans per my request and instead we had appetizers at the hotel and turned in early.
The best way to learn about local cuisine is to experience it in the kitchen of those who live there
Assisi My last day in Umbria was to be spent solely in Perugia, however, our clever driver Maurizio let us know that we had enough time in our schedule to do a quick drive through Assisi. We drove up and down streets so narrow that I was convinced we were driving on sidewalks. He insisted I shouldn't worry and these were the back roads. I covered my eyes a few times, checked the seat belt and couldn't help but laugh all the way into Assisi. As an added treat, we had just enough time to stop by the famous Temple of Minerva in the piazza del Comune and The Cathedral of Assisi, both of which were on my personal bucket list. Score!
Perugia Already on a high from adding something unexpected to the tour, we arrived in Perugia, a stunning city, ready to do some serious sightseeing. First Tony and Catia suggested we stop for a coffee and sweet in Perugia's famous Caffè di Perugia to literally taste the local flavor. Perfetto!
The unusual Cathedral of San Lorenzo sits sideways in the main square and its facade faces the tiny piazza Dante. The Cathedral has a rich history that includes a chapel dedicated to the relic of the Virgin Mary's wedding ring. Each year, for two days at the end of July (commemorating Mary and Joseph's anniversary and the date in which the once stolen ring was returned to Perugia) there is a procession in the church where secret key holders unlock the 15 locks and allow the people to see the relic. Outside the Cathedral is the magnificent Maggiore fountain which dates back to the year 1278. The religious and secular symbolic figures thatencircle the fountain represent the history of the village and the occupations of its people.
Similar to the way cuisine changes from region to region, so do the varieties of pottery. Opposite the Maggiore fountain, an open-air market displays Deruta style pottery with bold colors and distinctive artistic patterns.
Tony arranged for us to dine at the Perugian home of Marialucia, a Michelin-star worthy home cook. Marialucia cooks exclusively with fresh ingredients gathered from the morning markets claiming her secret ingredient is passion.
The views from her ultra modern, yet classically old-world Italian apartment were stunning. We toasted to our good health with a glass of Prosecco and cooled off with a shot of chilled gazpacho soup. Marialucia paired each course with organic wines. Our first course was a semi-bitter arugula pesto orecchiette, the best I have ever eaten. Next came a light, elegant eggplant casserole followed by a simply sublime Capri cake with yellow cream and a Caprese topping for dessert. We chatted about modern Italian cuisine and about life in Perugia. More like a family meal, it was a unique opportunity to take in the flavor of the area, literally.
The Peruginos are very proud of the Palazzo della Penna Museum and the newly renovated Fatebenefratelli spaces, as they well should be. For a small city, they are able to attract some very talented world-renown artists. Recently famous American editorial photographer Steve McCurry exhibited Sensational
talented world-renown artists. Recently famous American editorial photographer Steve McCurry exhibited Sensational Umbria, a photographic journey into the thousand-year-old history of the Umbrian people, the most famous being a native Perugian woman whose iridescent blue eyes captivated the world.
Perugia is an artist's paradise. The unusual landscape of emerald land and blush pink buildings make for a breathtaking panoramic view over the valleys. Traffic is kept to a minimum in the heart of the village. Roads are barely visible from the summit of the town and currently the only thing obstructing the view are the cranes that are being used to construct new buildings.
The big game in town for chocolate lovers was once Perugina, but since the Nestle group bought it, a new local favorite chocolate has taken its place. The Cioccolateria is a tiny little shop in the town square near the Cathedral where they pack a huge amount of local spirit into their hand-crafted chocolates.
Both Catia and Marialucia agreed that when the sun sets in Perugia, one of the best places to relax and dine al fresco is on the terrace of Ristorante Del Sole. We met there for my last night just as the warm, Umbrian afternoon sun was descending. The blue skies began to give way to a golden hue yet the sun was still strong enough to cast an orange glow on the hillside buildings below making for a breathtaking setting for the final feast.
My "last supper" was to be 100% authentic Italian and 100% local to Perugia. The sommelier suggested a lovely bottle of dry and fruity 2011 Petroro by Peppucci from Umbria to accompany the antipasto of dried meats, fresh olives and olive oil from the area followed by a lemon risotto served in a curvy bowl made from zucchini.
As promised, Tony had been able to completely immerse me into Roman and Umbrian cultures exposing me to some of
the finest food, wines, local sites and hospitable company. Tony's team at Pranzo Tours treated me to a one-of-a-kind epicurean experience I will not soon forget.
Get in touch with Pranzo Tours
Pranzo tours offers privately guided concierge tours specifically designed to your desires. Their team of certified guides are highly trained in the food, culture and history of Italy. Talk with them about planning your perfect trip to Italy.
www.PranzoTours.com
860.841.9183
Pranzo Tours partnered with The DB Mag on this article and hosted Priscilla Pilon on this customed designed trip. The opinions expressed here are her own.
For more information on Pranzo tours, contact them at 860.841.9183
10 North Main Street, Suite PH-7, West Hartford, Ct. 06107